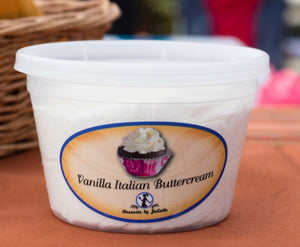 Italian Buttercream- 16oz. Tub
Vanilla Italian Buttercream frosting made in the Desserts by Juliette bakery can be purchased for your home enjoyment. Slather it on cupcakes, cakes, brownies, cookies, waffles, pancakes, pies, in your coffee or eat it by the spoon!!  
Each refrigerated tub come with 16 oz. of silky smooth Vanilla Italian Buttercream. There are directions on how to prepare the buttercream on the label.
Please provide  your phone number at check out so we can reach you if needed.
Call is at 219-299-5824 when you arrive at the bakery and we will deliver curbside 🚗
* product needs refrigeration. Can be frozen.